"

We're very aware of the fact that we're standing on the shoulders of giants. We are playing in the space of some of the most critically acclaimed games of all time.

— Developer, GI Interview

"
Batman: Arkham Origins is the prequel to Rocksteady's hit Batman: Arkham Asylum and Batman: Arkham City video games, published by Warner Brothers Interactive. In a departure for the series, this is the first of the console installments not created by Rocksteady themselves, instead being handled by WB Montreal, who handled the porting of Batman: Arkham City: Armored Edition for the Wii U. The game is launching alongside a handheld game- Batman: Arkham City Origins: Blackgate.
The game has been created using Rocksteady's modified version of the Unreal 3 Engine, in attempt to create as much parity between the original games and Origins as possible. The game prominently features the freeflow combat, stealth mechanics and gadget-based traversal and combat as its predecessors. The game also features the return of Challenge Rooms from Asylum and City. Currently, no new features are known.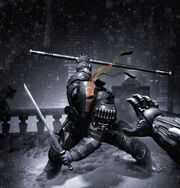 Taking place long before either of the original games, Origins is not meant to be the first time Bruce Wayne is Batman, nor is it the origin of Arkham Asylum. Instead, Origins is a story of a very young, very early Batman, and a number of incredibly important first meetings with multiple essential people in his life.
Eight of the world's greatest assassins, including the mercenary Deathstroke, have assembled in Gotham City on Christmas Eve for a single night with one purpose- to kill the Bat. Still inexperienced and not quite the master seen in the past, Batman's skills are pushed to the limit as he must fight to survive and bring these assassins to justice.
Development
Edit
To be written.

Reception
Edit
This game has not yet released.