"

For every choice, there is an echo. With each act, we change the world. One man chose a city, free of law and God, but others chose corruption and so the city fell. If the world was reborn at your image, would it be paradise or perdition?

— Sofia Lamb

"
BioShock 2 is the sequel to BioShock and the second installment in the franchise, and was released on February 9, 2010. The game improves upon the gameplay and concepts of the original game by adding in new elements of gameplay and the Rapture storyline.
TBA.
TBA.
Reception
Edit
TBA.
Collector's Edition
Edit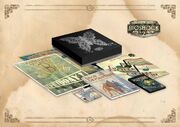 Two collector's editions of the game were released at launch. The Special Edition includes a Special Edition Box, Deco Devolution Art Book, a CD and Vinyl copy of the Orchestral Score, Sounds from the Lighthouse, and three special propaganda posters from Rapture. The Rapture Edition of the game, released exclusively in Australia and Europe included the Deco Devolution and Special Edition Box, but not the other goods included in the Special Edition.
Single Player
Edit
Multiplayer
Edit
Sinclair Solutions Tester Pack
Character Pack
Kill 'em Kindly
Rapture Metro Map Pack